​ ​​​​A few weeks ago, I got YACCO (yet another credit card offer). This one, however, offered a Master Card with your choice of Darth Vader or Yoda, in addition to a free collector's bust of Jango Fett from Gentle Giant Studios.
You may not know, but I'm a HUGE fan of both Jango Fett and Boba Fett! This was a no brainer. I got the Darth Vader card, and this weekend, I got the Jango Fett bust (number 1687/5000)! I was surprised at the quality of it. Most credit card gifts are pretty cheesy, but this bust is substantial!
Here's some more info on the bust: http://www.rebelscum.com/ggMBNAjangofett.asp.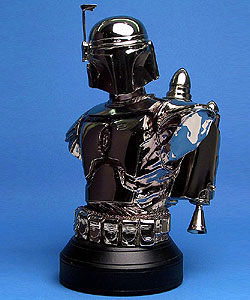 See also: Sci-Fi